The previous article tells about time spending options in Bansko within the city limits. Further, we'll present 10 more TO DO tips for those who ready to drive a bit away, using personal or public transport.
13. To visit mineral pools
Banya village is located just a 10-minute drive from Bansko. There are several SPA complexes in there, based on hot mineral spring water, the choice is wide and meets different tastes and budgets. The detailed overview of all mineral pools of Banya can be found in the previous article. We advise you to visit SPA in the morning, since in the afternoon, skiers and snowboarders are come here in a large quantity for the relaxation.

Mineral pools in Banya village, wintertime
14. To climb the Bezbog top
The chairlift «Dobrinishte» is situated in a 50-minute drive from Bansko. Chalet Bezbog is a last stop of the lift, located at an altitude of 2236 m, opens a splendid view of the valley. You can have a dinner or stay for the night at chalet Bezbog, and in the morning take a walk along the snowy hiking trails, as far as snow level allows.
A trail to Bezbog peak is the closest and safest. In the winter, waypoints are hidden under the snow, therefore, set off only if the road is well trodden or you walked along this route in summer. The best weather for a walk is sunny and cloudless. There is no need to climb to the very top of Bezbog, a beautiful panorama of snow-capped mountains opens up on a halfway already. Be careful, the main danger in winter is an avalanche. To be back at Bezbog chalet during the daylight, you need to start the journey no later than 14:00. A detailed overview of the winter route to Bezbog peak can be seen in the previous article.
You can go to Polezhan peak in winter only with a guide
15. To visit panoramic tower
Razlog is located in a 10-minute drive from Bansko. The town itself is quite depressing (especially in winter), but the observation tower is definitely worthwhile: stunning views of the Pirin mountains and endless fields extend till the horizon. A long staircase leads to the top, the climb takes around 15 minutes. Parking is free.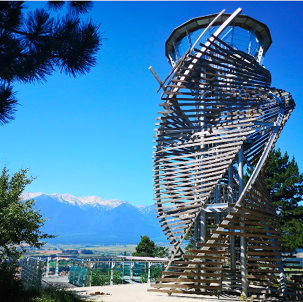 16. To look at Jesus in rocket
Dobyrsko village (Добърско) is situated a 30-minute drive from Bansko. The settlement gained its popularity due to a small old church of Saints Fedor Tyrone and Fedor Stratilat (Свети Теодор Тирон и Теодор Стратилат). The church is half drowned in the ground, local historians suggest thus it was hidden from ottoman invaders.
The church has a very controversial fresco depicting Jesus in a rocket. It must be said that similarity with the spaceship is quite vague, however if we take into account similar images on other Balkan frescoes, then the analogy can be seen. Working hours of the temple are 8:30 – 17:30, the price of visiting is 5 BGN (2,5 €). It is believed that water, flowing from a spring near the temple is healing, and, by the way, can be collected for free. Dobyrsko is located at an altitude 1070 m and the view on Pirin Mountains is quite interesting.

Comparison of Balkan church wall-painting in Dobyrsko and Vysokie Dechany
17. Ride a horse
There are several horse stables near Bansko. One of them is on the way to Lidl. Riding a horse in winter, is pretty cool, by the way, dress as warm as possible. An hour of renting a horse will cost around 30 BGN. Lesson at the manège — 20 BGN / 30 min. Groups are given a discount.
Unfortunately, it should be noted, that there is a heedless indifferent approach to horse care in Bulgaria: manes are tangled, fur is shabby. In general, horses, stables, manège and overall territory is a sad sight. The harness is made of rope, saddles and ammunition are very ragged, which can be unsafe for the rider during a walk.

18. To visit Greece on public transport
Very few people know that the Greek city Kavala can be reached by public transport from Bansko. Twice a day, modern bus depart from Sofia and stop at the Bansko bus station. Passing the border between countries doesn't take much time, most importantly do not forget a passport. Winter average temperature in Kavala is around 10-15 °C, but it may happen that you'll be lucky to see palm trees in the snow. Pricing and schedule are on this website kaleiatravel.com. You can check the trip overview in this article.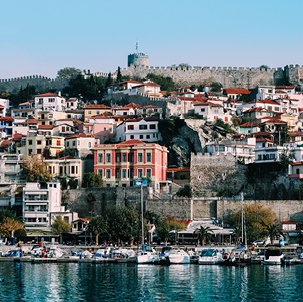 Travel time to Kavala is only 4 hours
19. To play winter golf
Pirin Golf Club is located a 10-minute drive from Bansko. In addition to golf courses and private villas, there is also SPA complex, open to all those wishing. Its offering two warm external pools with mineral water, several types of saunas and an indoor pool. The cost of visiting is 40 BGN, working hours of SPA complex from 9:00 to 22.30.
You also can spend some time on the second floor of the Golf Club building, drinking coffee and admiring magnificent view of Rila Mountains. Plaids and heat lamps are prepared on the balcony for guests. By the way, do not forget to ask the waiter to stamp your parking ticket, then entrance to the Pirin Golf Club territory will be free.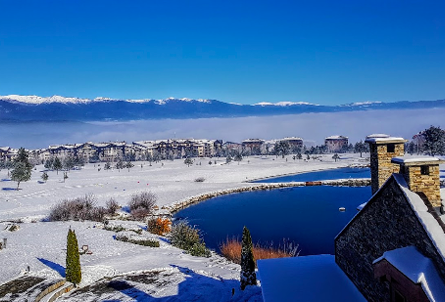 Did you know that golf is played here even during winter months? If heavy snow makes the holes of the main fields inaccessible, then the closed range will allow you to practice long-range strikes even on a snowy field. We advise you to take some mulled wine in a thermos to warm up. By the way, in winter prices for golf is drops by 10%.
Do you know more options for winter entertainment in Bansko? Please, share with us in comments.
WINTER GOLF PRICES
NOVEMBER 1 – MARCH 31
9 HOLES
18 HOLES
For property owners and hotel guests
Monday – Friday
35 BGN (17 €)
55 BGN (28 €)
Weekends and holidays
55 BGN (28 €)
87 BGN (44 €)
For external guests
Monday – Friday
55 BGN (28 €)
75 BGN (38 €)
Weekends and holidays
75 BGN (38 €)
110 BGN (215 €)
*The price includes one bottle of mineral water, a towel and a storage box
Rental equipment
Golf clubs
Full set
45 BGN (23 €)
Half set
20 BGN (10 €)
One club
10 BGN (5 €)
Electric golf car
Monday – Friday
45 BGN (23 €)
Weekends and holidays
55 BGN (28 €)
Driving Range set
200 balls
35 BGN (17 €)
Trolley
1
15 BGN (7 €)