Last year we reviewed the shops, participating in Black Friday promotion in Bulgaria. This year is no exception, and we prepared a list of stores, where you can get some discounts in November 2019.
The practice of «Black Friday» sales came to Bulgaria from neighboring European countries. This is not only a way of sales stimulation during the off season, but also an opportunity to get rid of the old collections and a possibility to please customers with low prices as well. So, let's see how things are on Black Friday in Bulgaria.

Furniture and Home Accessories
Cosmetics
A chain of cosmetic shop

Lilly

gives a discount up to 50% for a whole month. Bulgarian athlete Katrin Taseva is presented as a face of the «Black November» advertising campaign. More

Parfimo

online store offers discounts on perfumes and cosmetics up to 70%. More

Notino

shop lowers prices by 15%. More

DM

cosmetics and household store are not participating.

Yves Rocher, Sephora, BodyShop and Douglas Rivoli

unfortunately are not offering any discounts.

Bulgarian gymnast Catherine Taseva in tandem with Lilly store
Gadgets and Electronics
iStyle

store (an official representative Apple in Bulgaria) offers Black Friday's discounts from 22 to 25 of November, but only on MacBook Pro 15 ". More
A consumer electronics store

Technomarket

holds a discount promotion «А month of shocking offers»/ «БАШ месецът на офертите», from 1 to 30 of November. More

А1

mobile operator gives a discount up to 50% on the gadgets, from 11 to 30 of November.More

Technopolis

offers a discount from November 1 to November 21, mainly on TVs. More

Зора

offers no discounts.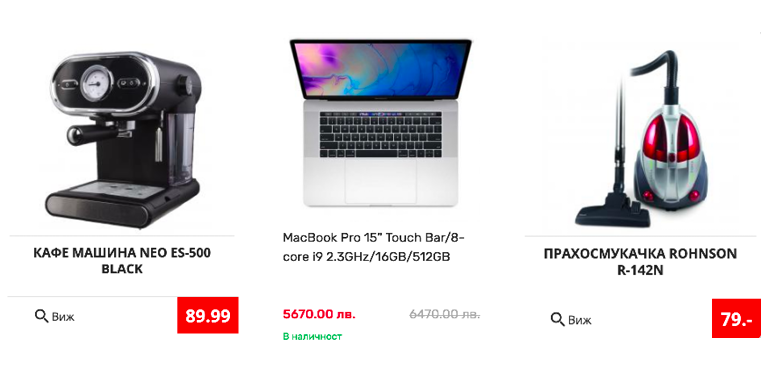 Offers from iStyle and Technomarket
Clothing & Shoes
H&M

discounts prices for more than 8600 items. More
Lingerie shop

Oysho

offers a 30% discount. More

Massimodutti, Mango, Benetton

offers no discounts.
Sport
Three giants of sports fashion

Adidas, Puma, Reebok

are not taking part in November sales.

Decathlon

holds a small sale of equipment for children and adults «A month of hiking» / «Преходи спорт на месеца». More

Sportdepot, Sportvision

and

Intersport

are getting rid of summer collection without any special promotion name.
Offers from Tendenz, H&M и Zara
Other
Optics stores

Grand Optics, Joy Optics

and

Opticlasa

offers a discount 70% for sunglasses, frames, glasses and lenses, from 15 to 30 of November. More.

Timer

online store offers a 40% discount on watches of famous brands Armani, Diesel, DKNY, Fossil, Tissot. Hope it's original. More.

Sex Shop Cupidon

gives a discount until November 29th. Serious discounts on serious toys. More
Kids' online store

Baby.bg

offering up to 50%, from 21 to 29 of November. The number of promo items is more than 3000.

Emag.bg

online hub, combining other online stores, will offer discounts on November 22. They even developed an application for this promotion. More
Supermarkets and restaurants
At the end of November, large chains like Metro, Lidl and Billa are focusing on sales, related to Bulgarian Christmas or Koleda (celebrated 25 of December), missing Black Friday promotions. Moreover, neither local nor international restaurants aren't offering any special discounts this time. Dunkindonuts, Starbucks, Сostacoffee, which held Halloween this year, also ignored Black Friday.
Сonclusion
According to the previous year, Bulgarian Black Friday dates went far beyond the single day. Some stores were offering promotions at the beginning of November, while the others are giving discounts during the whole month. However, international fashion brands, year after year, are using Black Friday as an opportunity to get rid of the summer collection. Whereas, many local Bulgarian brands are hold formal sales (5–10%) just to remind about themselves.
Summarizing, we have to say that Bulgaria is definitely not that type of country for expecting to buy a high quality pret-a-porter garment or the latest model of fashionable electronics with an 80% discount. Moreover, we found out that nobody is actually cared that official date for Black Friday is November 29.
If you have something to add to our list, please, leave a comment.